Is A Mold Inspection Service the Same as A Mold Testing Service?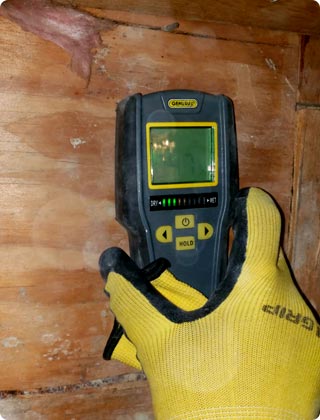 A mold is a form of fungus and it lives on water content. It grows outdoors, but can grow inside of a house under the right conditions. It is potentially harmful when its spores land on moist surfaces indoors, as it can start to multiply rapidly. This can cause damage to building materials and presents a health risk to individuals due to the increased mold density in the air. When you are looking to buy a home, it makes sense to request mold inspection and testing before you buy so that you know what you are getting into.
The two primary mold services provided for homeowners and buyers alike are mold testing and inspection. While these services are closely related, they are ultimately different. Whereas mold inspection reveals the appearance of mold in a house or likely areas for suspected mold growth, mold testing helps identify the particular mold type found indoors and can point to the severity of the situation by quantifying the amount of mold. Mold inspection is, therefore, a process precedent to mold testing. When mold is visible, many will agree that mold testing is not necessary since it must be removed regardless. Nonetheless, mold testing can be required to document mold growth officially, and it helps to treat its presence better to avoid reoccurrence.
It is common to have a home inspection performed prior to finalizing the purchase of a new home. While home inspectors will report to you if they see any signs of previous water damage, they are not experienced in mold inspection and mold testing. Mold experts conduct mold inspection and testing services utilizing various techniques.
What are the different methods of mold inspection?
There are certain elements to look out for in any inspection process.
Site Inspection

It is the foremost part of a mold inspection. Usually, it involves checking water-clogged areas such as the gutters, windowsills, attics, etc., as well as looking carefully in areas of concern for signs of water damage, increased humidity, and other signs of potential mold growth.

History

Where there has been a previous occurrence of mold remediation, inspection will be focused on those areas. Also, an inspector can ask questions about water clogged areas or leaking pipes, plumbing issues, etc. The answers are often related to previous repairs to identify potentially contaminated sites.

Thorough visual inspection

Physical inspection can rarely be omitted. If need be, things are moved around and about. Also, attention is shifted to kitchen areas, pipelines, and other areas where water is lodged.

Sampling plan

The inspectors creates a sampling plan from their inspection. The sampling plan includes all types of sampling tests, samples, and mold lab costs.
When is the right time to do a mold inspection?
Inspection is good for finding the slightest visual signs of mold growth. Mold may also be smelled in some instances - there is a distinctive odor. In other cases, the mold may not be visible and require that samples be collected for mold testing to completely rule out the presence of excessive indoor mold.
Instances when inspection should be done include:
New Home

Whether you rent a place or buy, it is essential to do a proper inspection. In most instances, agents or sellers do not often disclose the water damage condition of the house. Also, the mold may not be easy to find if you attempt to inspect them yourself.

Mold lives comfortably in moist areas. Hence, they are primarily found in spaces with water content caused by flooding, pipe burst, leakages, etc.

Abandoned Spaces

The probability that a space abandoned for an extended period is affected by mold is much higher than you'd expect. Hence, it is critical to employ the services of a mold inspector when renovating old spaces.
What are the various techniques of mold testing?
Overall, there are four methods of mold testing as explained below:
Non-intrusive physical inspection

This is always a part of every mold testing process, as it helps the expert determine where the samples need to be collected in order to collect meaningful results.

Tapes, bulk samples, and Swabs

These are all ways to collect samples of suspected mold directly from surfaces. Whether tapes or samples or swabs, you can detect the exact mold type growing but not decipher the size of the problem. A good inspector uses this only to confirm that a suspected stain or growth is mold and not something else.

Air sampling

Air sampling is at the peak of scientific confirmation for molds. It involves collecting a sample of air which is forwarded to a laboratory for analysis. It helps to confirm that mold spores are present and detect their types and locations. It tells the exact amount of airborne spores used to determine how dangerous it could be to health.
Is it necessary to do mold testing?
Mold testing is essential if you wish to confirm without a shadow of a doubt whether or not there is a mold problem in a property. The main benefit besides documentation is to give a baseline to compare to after mold removal services have been performed. Often a clearance test will be done to verify that mold levels in the vicinity have been lowered to normal levels. To ensure proper treatment and curb reoccurrence, it is advisable to do a mold test.
When is the right time to do mold testing?
Each house has a certain amount of mold, which travels through the air and grows with moisture content surrounding it. Mold testing may be advised after consultation. Also, a test may be conducted on your own volition after inspection to ensure that reoccurrence is avoided and the problem is adequately removed.
O2 Mold Testing is a reputable company that helps you inspect your home for hidden molds and toxins that can cause harm. We are a team that offers mold sampling, mold testing, etc. All our staff is licensed and experienced for all inspection services. We use approved laboratories to examine all collected samples to arrive at the best results.
Our tests are accurate and explicit. It reveals the mold type and your home's exposure range. We painstakingly carry out a physical examination of your home, focusing on water-clogged areas. Our services are thorough and protective of future occurrences.
We are professional in our dealings; hence results are documented. We deliver services within a short period, with rush services available for an additional fee when time is of the essence. Are you renting or buying a new space? Do you realize mold can cause damage to your well-being? You must conduct adequate mold inspection for your safety. O2 Mold Testing is currently the leading mold expert and the best option for your needs. Call 888-202-1680 to reach our mold experts now.