How to Check if Your House Is Making You Sick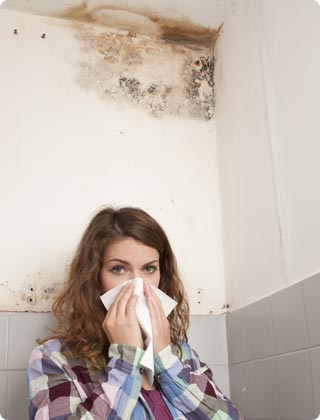 A home is a place that should provide safety and protection not just for you but for the whole family. However, there are instances where your own home is making you sick.
According to several studies, mold can make you sick at home. Some of the typical symptoms are itching, cough, sore throat, and stuffy nose.
Getting frequently sick should be unlikely if you spend most of your time at home. If you want to be sure of the safety of your home, read on this article from O2 Mold Testing team to find out if your house is making you sick.
Is your house is making you sick?
If you've noticed that your house is smelling bad or you get a heavy feeling when you enter your house, then you might consider whether it is a mold problem in your house that is making you feel this way. To find out, you can do the following:
Call a mold inspector.

Do not inspect for mold by yourself. It is necessary that a certified mold inspector should do the job because they have undergone intensive training to do so. Doing the inspection on your own can cause more harm than good to your health, and you may be left still wondering what to do.

If you are looking for reliable mold detection services, our professional team of mold experts can provide that for you. Our mold experts are equipped with relevant training to help solve your mold problems at home. We also only use state-of-the-art equipment to fully detect all the hidden areas of mold in your house.

Let the mold inspector take samples to the laboratory.

There are a large variety of mold species on the planet. Determining the kind of mold species you have at home is essential for professional mold experts to know the proper treatment needed. The inspector may conduct air sampling or surface sampling and take these samples to the laboratory.

Get mold testing and inspection results.

Once you've got the results, it is now time for certified mold inspectors to clean out the mold damage in your home.
Mold Prevention is in Your Hands
Prevention is better than cure. Make it a habit to check any spaces in your home, especially the attic, walls, shower, and crawl space.
It is good to keep in touch with your trusted mold inspector to conduct regular mold detection services. Good thing that O2 Mold Testing offers this service. You won't feel intimidated to approach their experts because they are happy to meet your needs.
How can indoor mold cause health problems?
Mold is a kind of fungal growth. It thrives in moist areas and is an important part nature's recycling system, where it helps organic matter break down and decompose. There are thousands of different mold strains.
According to the CDC, the spores in molds can cause respiratory problems when inhaled. People who are sensitive to mold can experience red and/or itchy eyes, stuffy noses, and itchy skin. In some, it can cause wheezing.
If you have asthma or mold allergy, the presence of mold in your house can pose greater risks to your health.
Mold testing and inspection in house steps
Surface sampling and air sampling
Assessing the outdoor area
Taking the samples to a laboratory for processing
Delivery and explanation of test results and recommended next steps
Contacting a certified mold removal expert
Mold in home health risks
Mold at home causes a number of health risks. Here are some of them:
Respiratory problems

The spores from mold can be inhaled and can cause you breathing problems. The damper the environment, the more spores are present in the air. These spores irritate your nose, throat, and lungs. If you have asthma, you may experience shortness of breath.

Allergy

Being allergic to molds can cause sneezing, watery eyes, runny nose, and an itchy throat. The risks are heightened if you also have asthma. Being exposed to mold can cause an asthma attack.

Bronchitis

This is when bronchial tubes in your lungs swell making it difficult for you to breathe. Spores from mold can worsen this condition.

Aspergillosis

This sickness is caused by Aspergillus, a different type of mold. People with a compromised immune system and weak lungs are more susceptible to this disease.
How much does it cost to check if your house has mold?
Many people are concerned about the costs for mold inspection services. The cost will vary depending on the size of your house and the type of services being performed. Smaller properties typically cost less to inspect than larger houses over 4000 square feet. A more basic visual inspection plus testing may be less expensive than a comprehensive inspection involving hard-to-reach places and behind walls. Ultimately, all these factors come into play when determining the cost of mold inspection and testing services.
How long does mold testing and inspection take?
It usually takes 5 business days for mold testing results to be available to you.
Fortunately, O2 Mold Testing can deliver faster results for you. With our rush service, you can obtain results within 24-48 hours. You are assured that these results are accurate and reliable as well.
Frequently Asked Questions
How much is mold removal in a house?
The cost for mold removal in a house is relative to the size of the area as well as the degree of air contamination, the number of sources and the type of mold. Our experts will be able to give you an accurate quote as part of your mold testing results.
How can I keep mold in my house from making me sick?
Make sure that your house is always well-ventilated no matter the season. Places like the shower, walls, crawl space and attic are the most common breeding grounds for molds. Keep these areas clean and well-ventilated. Make sure that these places are free from leaks as molds thrive in damp areas.
How can I know if there is mold in your house?
You can sometimes tell from the smell, especially if it appears a day or so after water damage. However, it is better to contact your reliable mold professional to find out if your house has mold that you can't smell or see. They are experts in mold detection and can find mold in places that you'd never expect.
Who checks for mold in your house?
Only professional mold experts conduct a mold inspection in your house. They primarily provide mold detection services and guidance to their customers. Do not conduct a mold inspection on your own in your house for your safety.
Final Words
Mold poses a lot of health risks not just to you but also to your family. Proper detection and treatment should be done to stop the growth of mold in your house.
Fortunately, O2 Mold Testing provides affordable and reliable mold detection services for the satisfaction of their customers.
If you want only the best for your home, contact O2 Mold Testing today!