8 Key Tips for Hiring the Perfect Mold Inspection Contractor (Mold Inspector)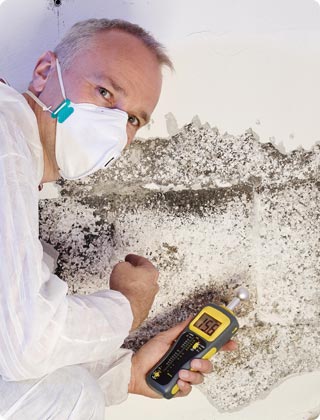 Do you need to get rid of mold from your home? Or are you currently experiencing health issues because of the mold in your house? Or maybe you're just not sure who to call to get a mold inspection done in your home? If any of these apply to you, then this article will have all the answers you need.
In this article, you will learn important details needed to get rid of mold from your house. This also includes how to choose the right provider for a professional mold inspection in your area. This is a step-by-step guide on finding the perfect mold inspector to call - all you need to know.
But before we dive into the tips for choosing the best home mold inspection contractor, let's briefly explain the consequences of mold, some of which you may already be familiar with.
Molds are common in homes and buildings with excessive moisture, a high amount of water accumulation, and insufficient ventilation. Mold prefers to grow on wood materials, ceiling tiles, cardboard, and many other porous types of materials.
Unfortunately, being exposed to mold for an extended period of time can result in a variety of health issues. Shortness of breath, irritation, and wheezing are just some of the physical symptoms caused by mold.
Now that you know the consequences of having mold in your house, it's time we explored the essential tips for finding the perfect mold inspection contractor that can best help you with your problem.
Tip #1: Initial Call for Mold Inspection
When choosing a good mold inspection contractor, you should always first call and explain your specific situation in detail before booking an on-site inspection. There are times when a mold inspection is not necessary, and this is something that can often be determined over the phone. A consultation through a phone call can sometimes be enough to get the needed information on how to proceed.
Professional home mold inspection service providers must have a good listening ear to hear you out and communicate effectively about their recommendations before booking the inspection. If the mold inspector is rushing to book the appointment without listening to you out, then it may be best to call someone else.
Also, make sure to ask which specific services are offered by the mold inspector. Surface testing and air quality testing are important factors to consider. And if these are not provided, it's probably best to keep searching.
Ask out about the inspection fees when making the initial call. Looking for the cheapest mold inspector is not a good method for getting the best. Be ready to pay reasonably for a certified inspector who provides well-detailed reports and solutions. Depending on the specific services required and experience of the provider, the mold inspection cost may vary.
Tip 2: Provision of Warranties/Guarantees
You have to consider the guarantee provided by the mold inspector to know if you are in safe hands. Find out about the equipment and detection methods used by the inspector. You want to make sure that the service you are getting is professional and thorough.
Tip 3: Written Contract Is Recommended
A written contract agreement is another valid means to be sure that a mold inspection contractor can be trusted. Check for the terms and conditions attached to the service and make sure that each party signs it. A written contract is legal proof of your agreement with the mold inspector.
Tip 4: Experience
As part of the tips for choosing a good mold inspector, consider the years of experience before making your final choice. An excellent track record of an inspector can help determine if they are the right fit to provide effective help. It's also good to know how dedicated this inspector is by asking if he's part-time or full-time. A full-time inspector should always be given preference.
Tip 5: Certifications & Licenses
Check for certifications and licenses of the mold inspector before signing the contract or hiring them. Every professional mold inspection company usually displays their certification on the "About Us" page of their website, or they can also provide this information to you during the initial call. Institute of Inspection Cleaning and Restoration (IICR) is a common certification held by mold inspection companies that shows proper knowledge in performing a house mold inspection. Also, don't forget to ask if the mold inspector is licensed.
Tip 6: Equipment and Inspection Techniques/Methods
The equipment used by an inspector can give you some understanding of his professionalism in performing mold inspection services. The type of equipment and mold detection methods used during the inspection will determine how effective it will be in locating all the hidden mold. An expert inspector should be equipped with the following tools to diagnose the problem:
Moisture meter
Flashlight
Swabs
Air quality pump
Infrared Camera
Specialized brushes
Hygrometer
IAQ Air Sampling Cassettes
Also, a professional mold inspector will have a system or checklist to follow. The inspector should explain to you the techniques included in the whole procedure. Some of the basic procedures in the inspection process are outlined below:
Examining the interior part of the house for water staining and leakage.
Examining the kitchen and bathroom for wetness or high moisture accumulation.
Examining the walls for any sign of mold.
Examining the washing machine for signs of mold or leakage.
Tip 7: Inspection Expectations
The mold inspector must give a summary of the service before commencing work. They should also inform you of any possible limits to what they can determine about your mold problem, and clearly explain what they can or cannot do. You should have a fairly good understanding of what you can expect to receive from the inspection, and what cannot be accomplished.
Tip 8: Reputation and References
Reputation plays a huge role in picking out a good mold inspector that will fit your needs. Check out their online reviews. See if there are any legal lawsuits filed against them. If available, also take a look at their list of references before making your choice. If it all checks out, then go for it.
Mold inspection and testing also involve the taking of samples. These samples are used to check for the presence of molds, which are either taken from the air or physical locations of the home. After the samples are collected, they will be analyzed by a lab. It is the lab that provides the report on the levels and types of mold that are found.
Are You Ready to Get the Perfect Mold Inspection Contractor Today?
O

2

Mold Testing is at your service
O

2

Mold Testing offers a range of molding testing services coupled with legal reports from the laboratory to document the problem
Our Services Include:
Surface Sampling ǀ Air Sampling
Visual Mold Inspection ǀ Moisture & Leak Detection
Our Service Area Includes:
Washington DC metropolitan area, New York, Miami, FL and Dallas, TX
Contact us today: 888-202-1680
Or visit our website:
https://www.o2moldtesting.com/